Rat bait box, rat poison baiting station, simple and inexpensive rat bait box. Use inside or outside, low profile design, fits under pallets or floor boards. Ideal for use with normal rat killers, rodenticides or EradiRat which is not a rat posion BUT does kill rats
10"x7"x4" approx.
Strong plastic, not blow moulded, supplied with a locking lid, removable bait tray and bar to hold wax type bait blocks
Cheap and cheerfull, buy from less than £3 each
Bait boxes should be placed along the rat runs at approx. 10ft spacing
If you use rat poison you are required to use a rat bait box
Packs of Bait stations have at least 3 keys per pack i.e. not a key for each box
Not a Rat poison but kills Rats.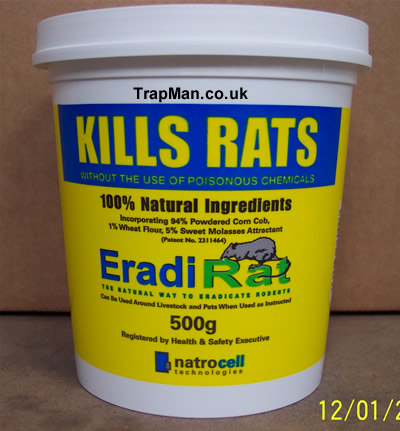 EradiRat is not a rat poison it contains No poisonous chemicals and can be safely used in food processing areas, food packing areas and food storage areas, full instructions on pack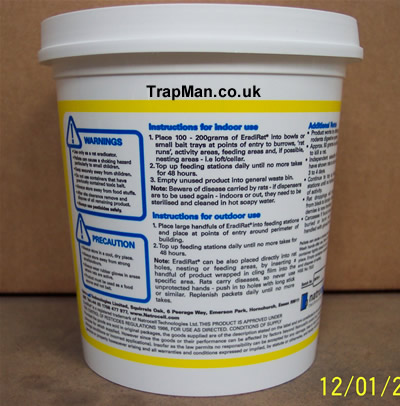 Rats are smart !.
.......Rats don't want to die,
................Rats won't go for the bait unless there is
.........................No other food available.
When handling, use precautions to avoid the possibility of disease transmission Use disposable rubber gloves. Apply household disinfectants at recommended concentrations to rodent droppings, nest and surrounding area, and allow for at least 15 minutes contact time before removal. Clean the area with paper towels or a mop. Thoroughly wash hands with soap and water and dispose of gloves.